While you may not be thrilled about school starting up again, it's hard to not be excited about trendy fall fashions. When the temperature starts to drop and the breeze gets chilly, it's the perfect time to experiment with fall trends by adding a few new elements to your outfit. Here are a few of my favorite trendy fall pieces you can add to your back-to-school wardrobe!
Oversized Striped Sweater
One of my favorite things to wear in the fall is an oversized sweater, such as this Striped Rugby Sweater from Forever 21. Since it's oversized, it'll keep you warm and cozy all day long. Neutral stripes are perfect for the fall because while it's still a vibrant pattern, the stripes are a subtle color and nothing overwhelming.
Pixie Pants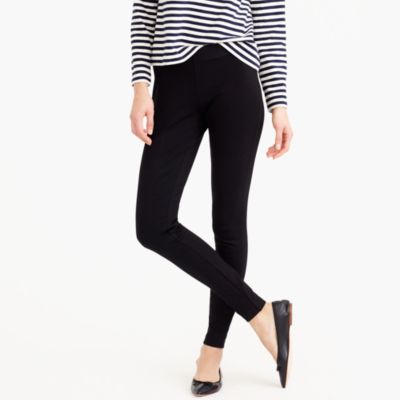 J.Crew Pixie Pants seem to be what everyone is raving about, and with good reason. These black fitted pants match perfectly with everything and will look great with big sweaters and accessories, and since they're so fitting they'll be perfect for slim boots. Also, the zipper detail on the back is super trendy and adorable! If you're tired of jeans and want to wear something else, the Pixie Pants will be a staple in your wardrobe.
Statement Scarf
If you're more into simple tops rather than patterned ones, a statement scarf is perfect to add some flare to your fall wardrobe. A scarf like this one from Lulu is great because it incorporates neutrals with the brown and dark yellow, a serene touch of turquoise, and trendy leopard at the center. It may seem like a lot going on at once, but it does blend together well and is a must have for fashion risk takers.
Riding Boots
Not just for horseback riding anymore! Riding boots have become super trendy and are iconic for fall fashion. They're certain to be cute, comfortable, and sturdy. If you're looking for a pair you can wear for many years to come, you might want to invest in this pair of Frye boots!
Leopard Loafers
Your feet want to get wild! Leopard loafers have been taking the fashion world by storm lately. No longer reserved for older adults, these trendy loafers are the big sister of your traditional ballet flats and will look great with skinny jeans! Try on this pair from Steve Madden.
Find your fall fashion favorites at Rent The Runway!
---

Michelle P has 10 post(s) on RTR On Campus
---